What is the Best Wood for Countertops?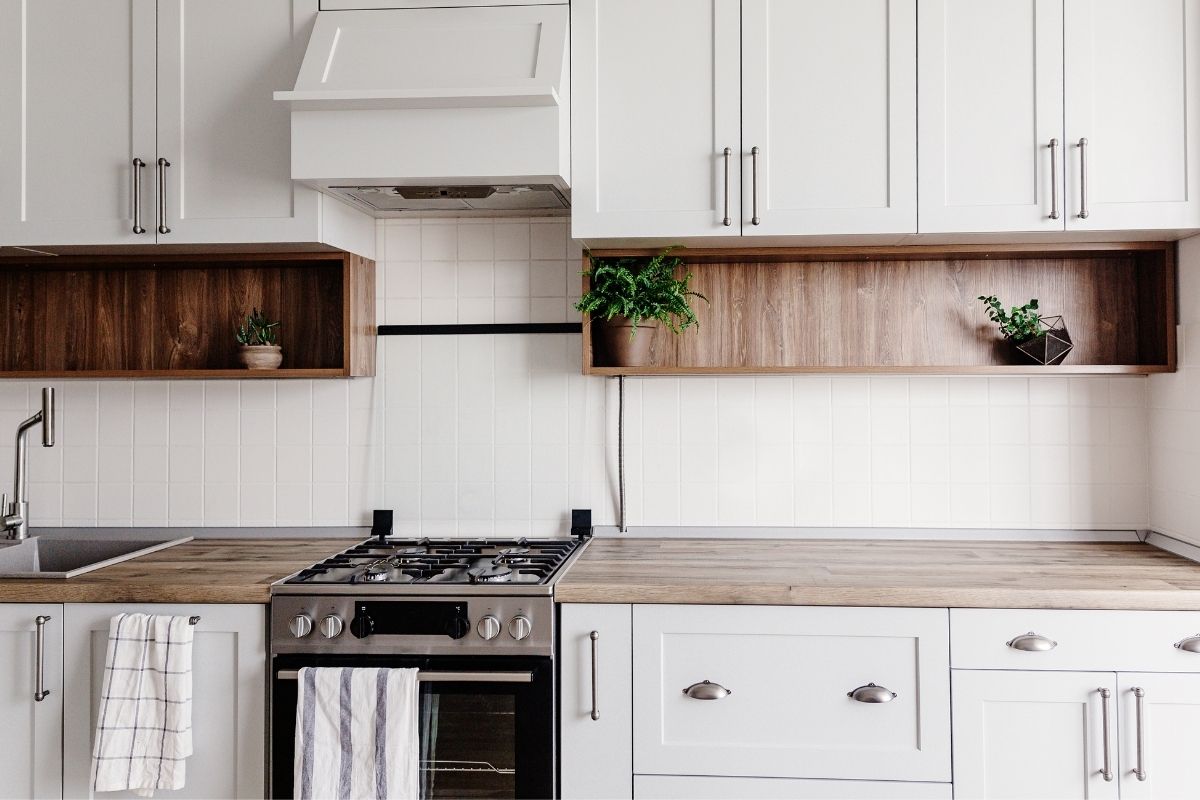 Published on June 3, 2022
Despite all the changes in home design over the years, the demand for wooden countertops remains high. If you're planning to build one for your home but don't know what woods to buy, you're in the right place on the web.
Here's a quick guide on how to choose the best wood for countertops.
Why Wood Countertops?
There are so many reasons to choose a wood countertop over other building materials.
For one, woods just have that classic aura that lends itself to your home. It makes your kitchen look luxurious, classy, and very distinctive.
In addition, most wooden countertops are made from butcher blocks. So they're very durable and can even double as a chopping board.
They're also generally cheaper than high-end stone slabs typically used in modern countertops. Some species of wood also have natural antibacterial properties that kill off germs. So, as long as they're properly cleaned, you won't have to worry about salmonella and other bacteria taking up residence in your kitchen.
The Best Woods for Countertops
To help you choose the right type of wood for your project, here are some of the best woods for countertops:
1. Rock Maple
Maple is the most popular wood for kitchen countertops. Aside from its natural hue, this wood is also prized for its hardness and solid nature. It's also one of the most commonly used wood for butcher blocks for the same reasons.
Its hardness also makes it more resistant to scratching than other wood species. Maple wood grains also tend to vary, creating unique patterns.
2. Acacia
The best thing about using acacia for countertops is that they're naturally waterproof and resistant to molds and termites. This makes them ideal for damp environments like the kitchen.
Its stunning and distinctive grain patterns will also add a personality to your kitchen. This type of wood is also very easy to work with allowing you to create unique and memorable countertop designs.
Using acacia wood also won't affect the environment that much. Aside from having more than a thousand varieties, these trees also grow quickly making them a sustainable choice for home furniture.
3. White Oak
With a Janka score of 1,350, white oak is one of the hardest domestic hardwoods. This makes it a durable choice of material for your kitchen countertop. Plus, it can be refinished over and over again so there's no need to replace it every time it gets scratched or burnt.
Another reason why using white oak wood for countertops is becoming very popular is its natural light color with a blue/gray undertone. It compliments a wide range of kitchen styles and colors. The oak's darker heartwood can also add depth to your space creating a warm, welcoming ambiance.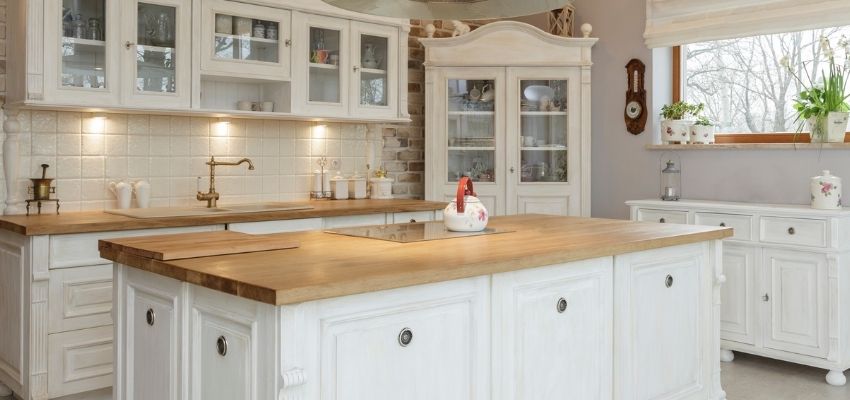 4. Black Walnut
Because of its deep dark color and tight grains, the black walnut makes a very luxurious-looking countertop. It may look a little dull at first but over time, it develops a very smooth finish adding to its expensive looks.
But aside from its aesthetics, walnut is also prized for its strength and durability. It also requires little maintenance compared to other types of wood. Just wipe it with water and a mild soap solution then rub it with oil periodically to prevent cracks, wear, and tear.
5. Cherry
With its fine grains and classic color tones, this North American hardwood is famous for its elegant aesthetics. It's primarily used for furniture making but it also makes a fine kitchen countertop.
American cherry is also known for its changing colors. Over time, the wood tends to appear darker or redder. This is especially great for kitchens with white cabinetry as it creates a nice contrast making your kitchen look more exciting.
6. Bamboo
Technically, bamboo is not wood but a type of hardened grass. But with the rise in popularity of engineered bamboos, it has become one of the most in-demand materials for kitchen countertops. 
Aside from its relative affordability, bamboo countertops also have that distinct tropical look that's hard to replicate. It's also very easy to clean and has natural antibacterial properties. Laminated or engineered bamboo can also last as long or even longer than most types of wood.
Bamboo's biggest advantage, however, is its sustainability. As a grass, bamboo grows a lot faster than trees. It only takes at most 3 to 4 years for a bamboo pole to be ready for harvesting. While most types of trees take about 10-20 years before they can produce logs suitable for mills and furniture making.
7. Wenge
If you're looking to have a very distinctive-looking kitchen countertop, then wenge is the wood for you. It's known for its very dark, almost chocolatey color that's made more striking with its straight grains. 
With a Janka of 1,930, wenge is also one of the most durable woods on this list. It can also resist termite and insect attacks.
Because of the huge demand for this wood, however, a slab of wenge can be very expensive. It can also be very difficult to work both with hand and machine tools. So unless you're a woodworking expert, you can't DIY your way with this wood.
8. Hickory
Hickory is one of the densest and strongest of all the hardwood species in North America. As such, it's a popular wood for flooring, furniture, and cabinetry. But despite its durability, hickory is generally cheaper than most hardwoods since it's readily available all over the US.
Because of its density, however, hickory can be a pain to work with. It can dull or chip new blades and ruin hand tools. So like wenge, you'll need professional help to turn a slab of hickory lumber into a beautiful brand new countertop.
9. Tigerwood
As its name suggests, this wood is characterized by its distinct dark brown streaks that look like the stripes of a tiger. It's native to South America where it's also known as Goncalo Alves.
Aside from its dramatic streaks, tigerwood is also known for its hardness and density. With a Janka rating of up to 2,160, it's denser than wenge and hickory. It's also highly durable and resistant to scratches, rot, decay, and insect attacks.
But like most dense hardwoods, tigerwood can also be very difficult to work with. Though they can be worked with professional hand tools.
Some countries have also started banning the use and export of tigerwood. So you may find it hard to get your hands on this type of wood nowadays.
How to Choose the Best Wood for Countertops
At the end of the day, the best wood for your countertop still depends on your priorities. Do you want a durable countertop that's resistant to scratches or just something that will complement your modern style kitchen? Or maybe you care more about sustainability and prefer woods that aren't in danger of getting harvested to extinction?
Identifying and listing down your needs and priorities can help you choose the best and most suitable wood for your countertop.
Hire The Timber Experts For Your Next Project
Vintage & Specialty Wood should be your source of the highest quality timbers from around the world. When it comes to fabricating and installing reclaimed wood or specialty wood products in your home, we don't cut corners. We offer many reclaimed wood and specialty wood products such as Douglas Fir, white oak, and much more. We also offer timber framing and wood flooring services as well. Contact our team today to speak to a timber expert about what Vintage & Specialty Wood can do for you.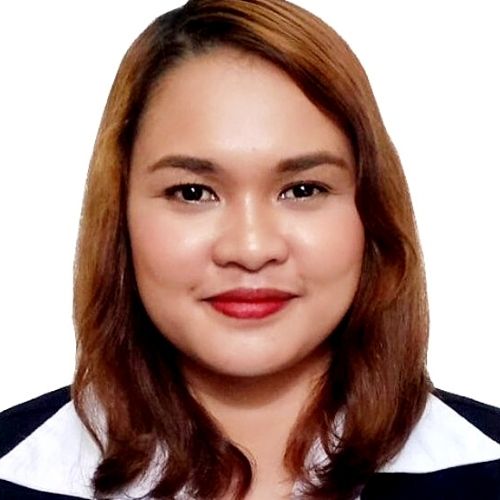 About The Author
Judy Ponio is a professional writer for the Vintage & Specialty Wood website blog. Her passion for carpentry and wood working coupled with her commitment to fact based blogging has helped her articles help millions of people over the years.