The Best Rustic Beach Themed Bedroom Ideas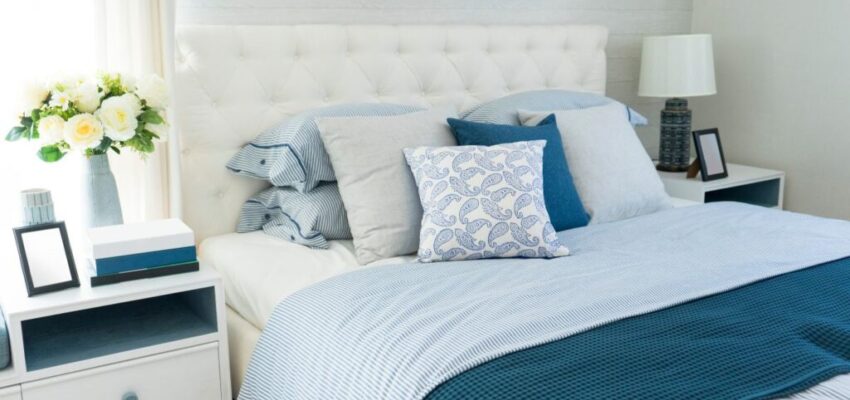 Published October 4, 2022
What's the best way to bring the best rustic beach-themed bedroom ideas to life? Can you effectively turn your bedroom into a haven that best symbolizes your love of the ocean? To answer these questions, most believe they will need a professional interior designer's help.
Luckily, you've come to the right place. We're here to show you some tips on how to bring your best rustic beach-themed bedroom ideas to life. It shall not take much. Just a few choice items, pieces of furniture, and sensible use of colors can make you feel like you're at the beach when you enter your room. Do it well enough and you'll have your very own Instagram-worthy space! 
Choosing the Right Colors
The typical color palette of a rustic beach theme bedroom consists of cool hues of blue and warm sepia with a touch of white or green for accents:
Hues of blue evoke the spirit of the ocean and bring the same refreshing feeling once you get out of the water and climb into bed. 
To garner the best results, use these colors on your curtains, bed sheets, blankets, and pillowcases. Dark blue colors, in particular, go well with sheets and pillowcases.
For curtains, this can be a subjective choice. If you want the room to feel airy, use light blue colors with light material. If you're going for security and maximum sun protection, heavier material and a darker tint is perfect. 
Sepia is warm to the eyes and balances out the coolness blue colors bring. Use wood furniture with a clear coat to evoke that rustic feel. You can scout local furniture makers who use driftwood or natural untreated wood for great effect.
You can use green as highlights. Add this with the intent to bridge your blue and sepia hues together.
For best results, go for sage green. This is a very neutral green color with gray overtones that has a cool, calming effect and a classy look.
Another great color to work with. Use sparingly so as not to take away from the rustic feel of your bedroom. A few white flowers, candles, and accents work best when used correctly.
Materials To Use
You might think this is the hardest part of turning your bedroom into a rustic beach-themed one. It isn't. There are a lot of specialty stores that offer rustic items that you can decorate your room with. You can also source these materials by going to the beach. That is the most authentic way to do it, not to mention how fun it is to track down elusive items.
Nothing screams rustic louder than distressed wood. 
You can also use driftwood and fashion furniture out of it. Also, it's possible to source these by combing your local beaches, scrap yards, specialty shops, and official driftwood sellers in your locale.
Remember to treat the wood before turning it into a useful piece of furniture. This can be done through chemical or natural means. For starters, dry it out before starting any project. 
The more pieces of distressed wood you can find, the better. This will help you get creative when it comes to constructing your furniture.
Old/Antique Wood Furniture
If you're not that handy, you can still supply your rustic beach theme bedroom with choice pieces of furniture by heading to an antique shop specializing in rustic furniture.
Not only does this give you the opportunity to see different types of furniture that you can buy or make but it also helps you connect with like-minded individuals. 
Use pressed or dried plants as ornamental pieces. You can place dried twigs in clear empty vases to line your shelf with. Be careful where you place these and make sure they serve a purpose, otherwise, it's just clutter. 
You're going for a tasteful application rather than just haphazardly placing rustic elements everywhere.
You can use knitted lace fabric for tabletop runners. 
The best colors for these are grey, white, and light blue. These can be found almost anywhere. You can drive down to your local mall and head on over to the fabrics section for ready-made ones or to buy basic supplies you can work with if you are the type who enjoys DIY projects.
If you check online, there are a lot of cottage industries offering knitted or lace fabrics that you can buy. Often, these fabrics are unique or only solid in a limited series of batches.
Beddings, Blankets, and Pillow Cases
Solid blue colors help make the room cooler to the eye. There's a wide range of colors to choose from light to dark. Choose the one that you feel best suits your room.
A dark blue bed sheet with a lighter-colored runner is a good combination. 
Your main pillows can be a lighter shade of blue so it pops out. Another good idea is to include a couple of throw pillows for good measure.
The choice of curtains in your room will greatly affect the overall result. 
Curtains made of light materials will make your bedroom light and airy while heavier curtains increase your level of privacy and sun protection.
Shells, Beads, and Pebbles
As a final touch, sprinkle a few shells, beads, and pebbles into the mix to make your rustic beach-themed bedroom ideas come to life. 
Now you finally have a reason to keep each pebble, bead, and shell you that pick up at the beach. In addition, they'll no longer have to serve as simple keepsakes.
If In Doubt, DIY


You can also do some beach-themed bedroom DIY decorations. 
Small knick-knacks are easy to make if you're handy enough. You can also use materials like paper, cardboard, discarded furniture, pieces of fabric, and other interesting items.
On top of that, with a little know-how, you can remodel the entire beach-themed room alone or with the help of a couple of friends. Just make sure you're wearing the appropriate safety gear and know exactly what you're doing so you won't make any blunders.
In addition, you can find a lot of great ideas through Pinterest.
Final Words Before We Go
Bringing your rustic beach-themed bedroom ideas to life takes a lot of planning and sensible decision-making. It's easy to go overboard if you don't have the proper set of blueprints to properly guide you along the way. This is especially true if choose the harder DIY route.
Hire The Timber Experts For Your Next Project
Vintage & Specialty Wood should be your source of the highest quality timbers from around the world. When it comes to fabricating and installing reclaimed wood or specialty wood products in your home, we don't cut corners. We offer many reclaimed wood and specialty wood products such as Douglas Fir, white oak, and much more. We also offer timber framing and wood flooring services as well. Contact our team today to speak to a timber expert about what Vintage & Specialty Wood can do for you.
About The Author
Christian Cruz is an experienced blogger with a deep passion for carpentry and home design. Over the years, Chris has written hundreds of articles on a myriad of topics. As a result, millions of people worldwide have read and benefited from his work.