Is The Farmhouse Going Out Of Style?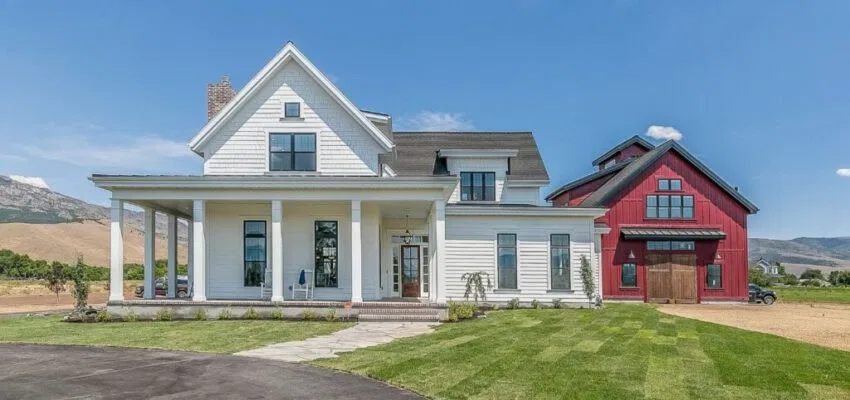 Published October 4, 2022
The farmhouse trend has rapidly been gaining popularity in recent years. However, as we're all aware, trends come and go. So is the farmhouse going out of style? To put it simply, not really. After all, the rustic vibe of this kind of architecture provides it with a timeless vibe that's sure to stand the test of time.
In this article, we'll discuss everything you need to know regarding the matter. That way, it shall be easier for you to determine whether a modern farmhouse is the right kind of home for you!
So What's A Modern Farmhouse?
A modern farmhouse is a style of housing that blends old-school rustic farmhouse architecture with modern elements. It combines the old with the new, resulting in something truly unique.
While many believe that the interiors of modern farmhouses have to be formal, this does not have to be the case. Modern farmhouses can have casual interiors that make you feel cozy.
The Elements Of Modern Design
Although each modern home is different, all of them share a set of elements that make them what they are. Some prime examples of these elements include:
A lot of open spaces and

natural light

Modern artwork

Somewhat restrained elements

Natural materials

such as wood and stone

Generous use of contrasting colors like black and white

Basic industrial elements
The Elements Of Modern Farmhouse Design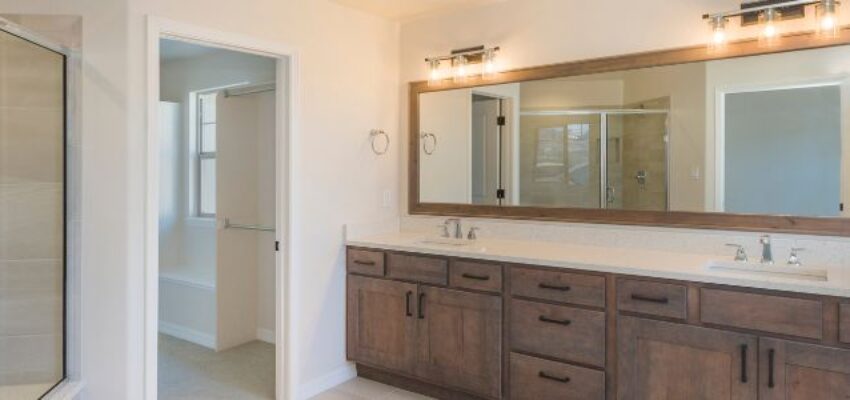 Modern farmhouses follow a strict array of design elements. Needless to say, some farmhouses stand out because they break the norm. With that said, here are a few defining features that can be found in most modern farmhouses:
The usage of lots of neutral colors like white or off-white

A combination of vintage and industrial elements

Lots of lighting (natural and artificial)

Patterned and textured linens on curtains and furniture

Vintage, heirloom, or refurbished furniture pieces

The usage of a lot of natural materials
So now that you know the elements of modern design and modern farmhouse design, it should be much easier for you to understand why modern farmhouses are so popular. 
They seamlessly integrate timelessly classic design elements with a touch of badly needed modernity. In turn, this produces something that's truly eye-catching.
How Long Before Farmhouses Are No Longer Trendy?
Is the modern farmhouse going out of style? As mentioned earlier, not really. Even if a lot of the interior decor pieces commonly found in modern farmhouses can be found in mainstream stores, this doesn't necessarily mean that the trend has hit its peak and will fade soon.
Remember, classic never goes out of style and modern farmhouses retain the classic elements that people love in their homes. At the same time, they've got that touch of modernity that won't make it seem like you're living in the past.
As such, to put it simply, the modern farmhouse definitely won't go out of style in the near future. In fact, this trend might go on for a couple more years or decades. Furthermore, if it ever goes out of style, the modern farmhouse trend will surely contribute to the next biggest house trend.
Timeless Design To Navigate Modern Trends
When it comes to home construction or renovation, you'd want to stay as prudent as possible since you've got a limited budget. Luckily, this is easy to do with a little know-how.
If you're ever going to pour large sums of money into something, it should be of timeless design. For example, you should get classic-style furniture, cabinetry, flooring, and other hardscapes that are meant to serve as permanent fixtures within your home for the following decades.
How come? Because timeless design elements are styles and materials that tend to appear and then reappear with different trends time and time again. For instance, ancient roman architecture is still being incorporated into design even after 2000 years,
Color Choices Are Important
Have you noticed that particular sets of colors tend to be associated with different decades? As such, it's safe to say that color can quickly make things look dated. For that reason, it is best to stick to neutral colors such as black and white because these colors really never go out of style.
Trendy Is Not Synonymous With "Current"
You don't have to follow trends for your home to look current. The design of your home can be timeless while "of the moment" at the same time. Moreover, good design can be incredibly subjective. Therefore, when designing for our clients, we work very closely with them.
Putting It All Together
Despite already being considered "mainstream", the modern farmhouse is here to say for a few more years. That's because, unlike other design trends, this one incorporates elements along with styles that are timeless. Now when I say timeless, think reclaimed woods, marble slabs, and stone walls or countertops that not only last long but also literally never go out of style.
Hire The Timber Experts For Your Next Project
Vintage & Specialty Wood should be your source of the highest quality timbers from around the world. When it comes to fabricating and installing reclaimed wood or specialty wood products in your home, we don't cut corners. We offer many reclaimed wood and specialty wood products such as Douglas Fir, white oak, and much more. We also offer timber framing and wood flooring services as well. Contact our team today to speak to a timber expert about what Vintage & Specialty Wood can do for you.
About The Author
Christian Cruz is an experienced blogger with a deep passion for carpentry and home design. Over the years, Chris has written hundreds of articles on a myriad of topics. As a result, millions of people worldwide have read and benefited from his work.