Best Kitchen Design Layout For You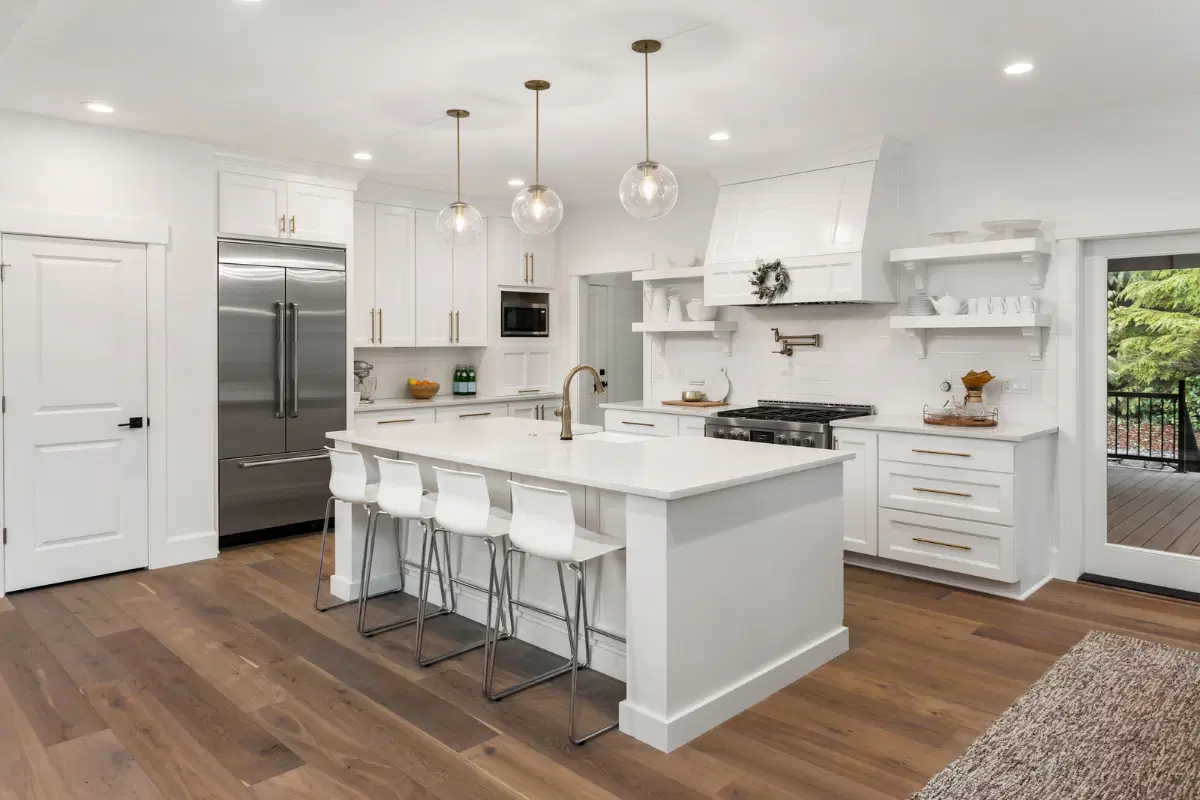 Published September 24, 2021
For the modern home, a kitchen has become so much more than just a place to prepare food. So whether you're renovating or building a new home, planning the kitchen design layout can be stressful. 
For one, the ideal kitchen varies for everyone. Besides personal preference, there are a lot of factors that go into planning your kitchen space. Not to mention the thousands of design "inspo" on Pinterest which, sometimes, only adds to the confusion.
This is why most people leave the job to professionals. But if you want to do it DIY, here are some things you need to know about planning the best kitchen design layout for you.
Basic Kitchen Layouts

There might be thousands of kitchen design ideas you can choose from. But when it comes to layout, there are only 6 basic types:
One Wall Kitchen
Perfect for small spaces, this layout has the entire kitchen against a single wall. The storage cabinets hang atop the cooking station and the kitchen sink. 
This technique utilizes storage space without sacrificing functionality. It's no wonder why it's very popular in urban areas where space is often quite limited.
Galley Kitchen
If you're planning to fill your kitchen with lots of cabinets, this layout is perfect for you. 
The galley kitchen layout consists of two rows of cabinets facing each other, creating a passageway between them. Its straightforward design eliminates the need for any special gadgets making it more economical. The large storage space also makes it ideal for larger households or multiple-cook kitchens.
L-Shaped Kitchen
As its name suggests, this layout has cabinets along two perpendicular walls forming a letter "L". It typically opens to another room (usually the dining room). 
This open-type layout makes it easier for anyone from the kitchen to interact with other people in the house. You can even build a corner shelf or cupboard to maximize space usage.
U-Shaped Kitchen/Horseshoe Layout
This layout is generally regarded as the most versatile of all kitchen layouts. 
It features three walls lined with storage cabinets, kitchen appliances, and other kitchen gadgets. But unlike other layouts in this list, it features countertops with rounded corners. 
The continuous countertops make it easier for the user to access various areas of the kitchen without having to walk across the room, making this layout practical for the elderly or handicapped who can't continuously walk long distances.
Kitchen With Islands
Adding an island to your kitchen layout creates a dramatic change in the space. In single wall layouts, adding an island augments the counter space. The island also serves many functional purposes aside from being a rather aesthetically pleasing part of your home. 
You can use the island as a plain countertop or even as a kitchen sink. Alternatively, it can incorporate a wine bar, a prep bowl, a dishwasher, and perhaps a stovetop.
Peninsula Kitchen
Also called the G-shaped kitchen, this layout features counter space and storage shelves that surround the cook from three sides. 
To complete the layout, a small island juts from one of the walls. This layout is ideal if you want to maximize your limited area with more counter space.
How To Design A Kitchen Layout?

Consider Your Kitchen Area
The first thing to do when you're planning your kitchen layout is to consider your kitchen area. How big is it? How is it shaped? Do you have already existing features that you want to retain? Like those gorgeous vintage cupboards perhaps? Or are you starting with a blank slate? If you're going to put an island, will you still have space to move about? Should you put the sink right next to the window or away from it?
The answers to these questions will help you plan a layout that will best suit your kitchen area.
Choose A Concept
Part of designing your own kitchen is choosing a concept. This is where those numerous kitchen photos you saved from Pinterest come into use.
If you're not that fussy, you can skip this part. But having a concept or a theme will give personality to your kitchen. The colors, decorations, and the way everything is put together will determine the ambiance of your kitchen. There's no rule to follow when choosing a concept for your kitchen. It's your kitchen after all. So mix and match to your heart's content. Let your creativity channel through every detail.
Visualize Your Idea
Now that you have an idea for your kitchen layout and concept, it's time to visualize those ideas. You can go the manual route and draw them on paper or you can use design planning software. There are plenty of them online which you can use for free.
Visualizing your ideas will give you a glimpse of what the final result will look like. This will help you test whether they work overall and iron out the details to wrap up the design.

(Related: What is the Best Wood for Countertops?)
Hire The Timber Experts For Your Next Project
Vintage & Specialty Wood should be your source of the highest quality timbers from around the world. When it comes to fabricating and installing reclaimed wood or specialty wood products in your home, we don't cut corners. We offer many reclaimed wood and specialty wood products such as Douglas Fir, white oak, and much more. We also offer timber framing and wood flooring services as well. Contact our team today to speak to a timber expert about what Vintage & Specialty Wood can do for you.
About The Author
Christian Cruz is an experienced blogger with a deep passion for carpentry and home design. Over the years, Chris has written hundreds of articles on a myriad of topics. As a result, millions of people worldwide have read and benefited from his work.