The Most Common Woods Used For Construction
Published November 8, 2022
Wood is one of the most common construction materials, along with steel, concrete, and stone. It boasts high thermal insulation, adaptability, structural stability, and affordability. Though these are generally the properties of wood, certain types are better at some aspects than most. Specific woods have comparatively high insulation, while others have better fire resistance. Put simply, not every wood is the same.
For that reason, choosing a specific wood to construct your house is often advisable. And for that, knowing the common construction woods can go a long way. But first, let's look at the different types of wood.
What Are The Different Types Of Wood Used For Building Houses
Experts generally classify wood into three categories according to its origins. Those three categories are:
Softwood

comes from conifer, a tree with scale-like or needle-like leaves that remain evergreen.

Hardwood

is from deciduous trees with broad leaves (no needles) that shed their leaves annually.

Engineered Wood

is wood composed of wood waste like scrap wood, shredded wood fibers, and sawdust. These materials are then held together with other materials, like adhesives and resins.
Despite their name, softwood doesn't actually mean they're soft, though it's partly true. The main difference comes from the fact that coniferous trees have a faster growth rate. As such, softwoods are typically more affordable than hardwoods. That's why the majority of the most common woods are softwoods. Moreover, since density increases the longer the tree grows, hardwoods generally have a higher density than softwoods. 
Engineered wood is a somewhat unique type. Its density and availability depend not on the growth rate but rather on its manufacturing rate. So, without further ado, here are the nine most commonly-used construction woods.
1. Cedar
Cedar is a softwood that features a beautiful aesthetic, pleasant aroma, and high strength. Hence, it's the preference of many homeowners as it can create a solid and comfortable house. There are generally two types of cedar: (1) northern white cedar and (2) eastern red cedar. Both are easy to work with and have a relatively straight grain. Red cedar is slightly denser, but homeowners prefer white cedar due to its aesthetic.
While cedar isn't particularly strong, at least when compared to other woods, it has various preferable features. For one, it's a naturally insect-repellant wood. It's also sound-resistant due to its porous nature.
2. Firwood
Firwood is best known for its strength-to-weight ratio, which is relatively higher compared to other woods. If you aren't aware, the higher the strength-to-weight ratio, the denser and stronger the material. That essentially means firwood is denser and stronger than others, hence why it's one of the most common construction woods.
There are various types of firwood, but Douglas fir is the most common. After all, in terms of strength-to-weight ratio, it's the highest rated in North America. In addition, firwood is also relatively resistant to decay and excessive humidity. Hence, it typically lasts longer than most wood types. Interestingly, despite its strength, firwood is also versatile, which is why artisans often buy Douglas fir for when they want to craft cabinets.
3. Hemlock
Hemlock is a softwood commonly found in North America. It was initially harvested for its bark, but now, it's become one of the most common construction woods. It's strong, resistant to wear and tear and warping, somewhat affordable, and can develop a pleasing color when exposed to weathering elements. In addition, due to its non-resinous properties, hemlock can hold stains, finishes, and glue better than most construction woods.
4. Pinewood
The main selling point of pinewood is its natural light color. Depending on the exact species, its color may vary from pure white to light brown. However, its distinct feature is shock resistance, which only a few woods have.
That means a house made of pine can withstand impact better than other houses. For that exact reason, many homeowners choose pinewood when constructing their patio, flooring, deck, or any part of the house with high foot traffic. Apart from the shock resistance, pinewood is also relatively resistant to rot and decay.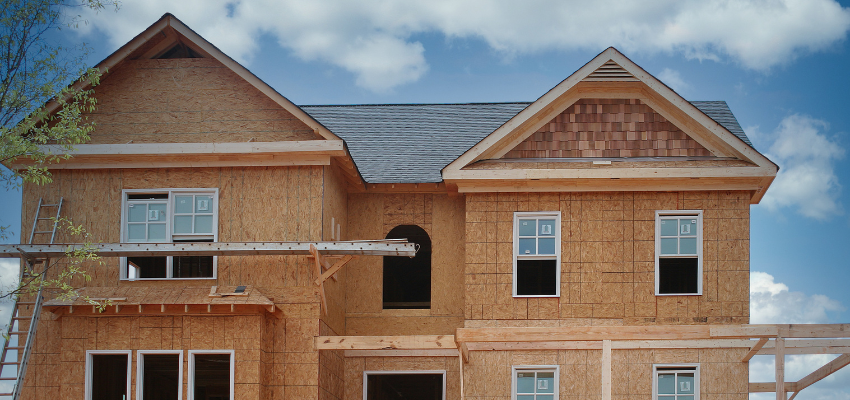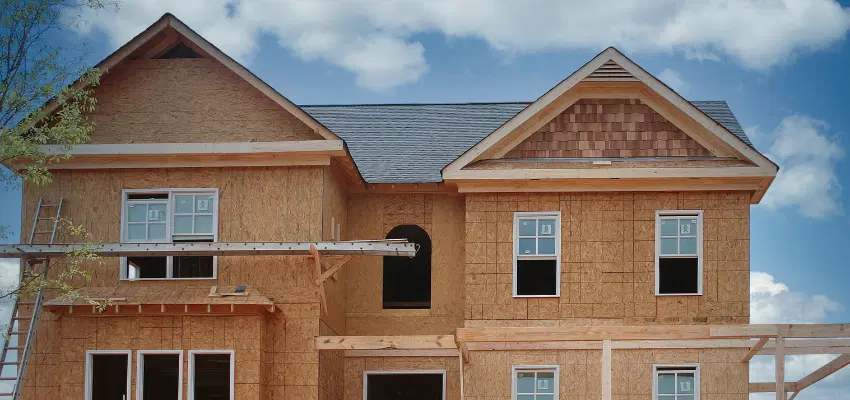 Unfortunately, pinewood has the downside of not being water-resistant, though that's pretty common among wood types. That just means sealing is required. Its color also tends to fade as a result of exposure to sunlight.
5. Spruce
Spruce is one of the most common construction woods simply because it's affordable. It's not particularly strong and doesn't have a feature that makes it stand out from the rest. However, it's decent for what it is.
Its density and strength are comparable to pinewood, it's reasonably resistant to rot, and it features a straight and uniform texture. Like most softwoods, spruce is malleable and is, therefore, easy to work with, especially for wood furniture. Perhaps its main downside is its comparatively lower durability and lack of insect-repellent properties. That's why it's not a common material for outdoor house constructions, like the deck or patio.
6. Mahogany
Mahogany is a hardwood (and is the first hardwood in this list) that's best known for its unusually high level of resistance to moisture and atmospheric changes. As such, it's not likely to rot, mold, shrink, swell, warp, or twist, unlike other construction woods. Moreover, mahogany is an incredibly dense wood, so water cannot penetrate through the wood easily. That's also why this wood is pretty resistant to termites and other insects.
Despite being hardwood, mahogany is still relatively easy to work with. It's even great for carving, which is why artisans often use mahogany to carve instruments like acoustic guitars and drum shells.
Overall, as far as structural properties go, mahogany is top-of-the-line. Not to mention it also features attractive hues or colors. Its main downside is that it's relatively expensive, though that's completely understandable.
7. Maple Wood
Maple is a hardwood characterized by smooth grain patterns. It's not particularly dense, but it's denser than most softwoods. Its main selling point is its bright and creamy appearance. Put simply, it's common primarily because of its pleasing aesthetic. Also, keep in mind that maple wood can darken due to exposure to UV light and oxygen. If you want the house to have a uniform, it's best to get the maple wood simultaneously.
8. Oak Wood
Oak wood is among the best construction woods in terms of structural stability and density. That's because oak grows quite slowly. Hence, its density just keeps getting higher and higher. But that also means it's expensive.
Nevertheless, oak wood is an excellent material for timber framing and beams since stability is vital for these parts of the house. Oak wood is also relatively durable. In particular, oak wood is somewhat resistant to pests, termites, and other weathering elements like sunlight and moisture. It's not necessarily the best when it comes to aesthetics or appearance, as other construction woods are objectively more diverse in those regards.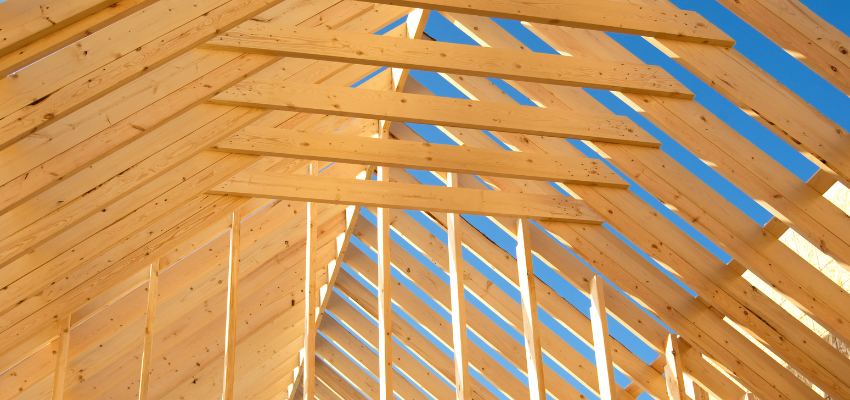 9. Plywood
Plywood is the most widely-used engineered wood for constructing houses. It can consist of softwood, hardwood, or a combination of both. If it's mostly softwood, it's usually Douglas fir, while for hardwood, the common ones are mahogany, oak, and maple, which are, interestingly, the three most common hardwoods.
Plywood, much like most engineered wood types, has properties that you usually wouldn't find in a naturally-occurring wood. For one, it has a relatively high resistance to moisture, impact, chemical, and fire.
It also has high strength, though it's not as notable as other hardwoods. Another distinct property of plywood is its high sound and thermal insulation capabilities. That's why plywood is commonly used for flooring, roofing, ceiling, and walls. It's one of the many ways homeowners reduce their cooling and heating expenses.
Summing It Up
Though some construction woods are objectively better than most in many aspects, the ideal lumber for your project will ultimately depend on your priorities or needs. Whether you want to prioritize affordability, strength, appearance, or longevity, That's why it's a common practice for homeowners to first assess their needs and preferences before jumping straight to choosing a wood for their project.

(Related: The Most Expensive Trees Around The Globe)
Hire The Timber Experts For Your Next Project
Vintage & Specialty Wood should be your source of the highest quality timbers from around the world. When it comes to fabricating and installing reclaimed wood or specialty wood products in your home, we don't cut corners. We offer many reclaimed wood and specialty wood products such as Douglas Fir, white oak, and much more. We also offer timber framing and wood flooring services as well. Contact our team today to speak to a timber expert about what Vintage & Specialty Wood can do for you.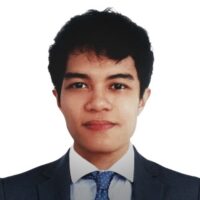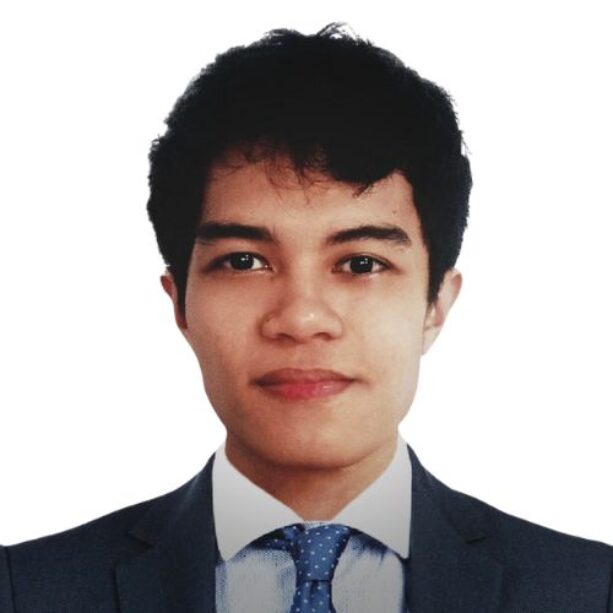 About The Author
Lenard Arceo is an experienced writer who enjoys writing about home design and real estate topics. In his free time he enjoys learning to code. He has spent most of his life writing for reputable website blogs and has helped reach millions of people on the internet.