Building A Pergola On Your Deck – The Definitive Guide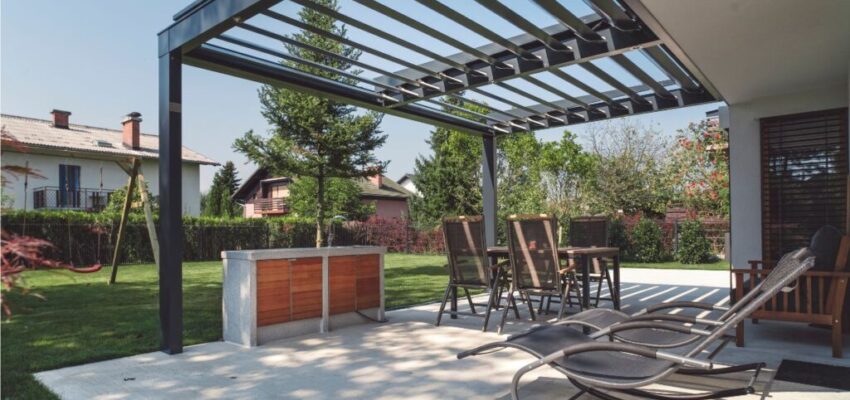 Published on July 5, 2022
A pergola on your outdoor deck is a great thing to have. 
Besides providing shade on hot summer days, it also alters the entire atmosphere of your home's outdoor space. Also, pergolas are perfect spaces for entertaining guests or simply hanging out when you grow bored from staying indoors.
In this guide, we shall discuss everything you need to know about building the perfect pergola for your outdoor deck. Additionally, we'll tackle everything else that's relevant to the topic.
What Is A Pergola?
Pergolas are outdoor structures that are frequently built over seating, dining, and entertainment areas. They wildly vary in design; however, they all consist of vertical posts or pillars supported above by an overhead open-lattice crossbeam grid.
Wood is the material of choice for most pergolas. That said, metal pergolas are increasingly becoming more common because they're more well-suited to the design of modern homes.
It should also be noted that not all pergolas extend from your house's wall. A lot of them are built in a freestanding manner on your outdoor patio deck. Furthermore, some pergolas can be fully covered from above so that they can be employed as a shelter when it starts to snow or rain.
Why Build A Pergola On Your Deck?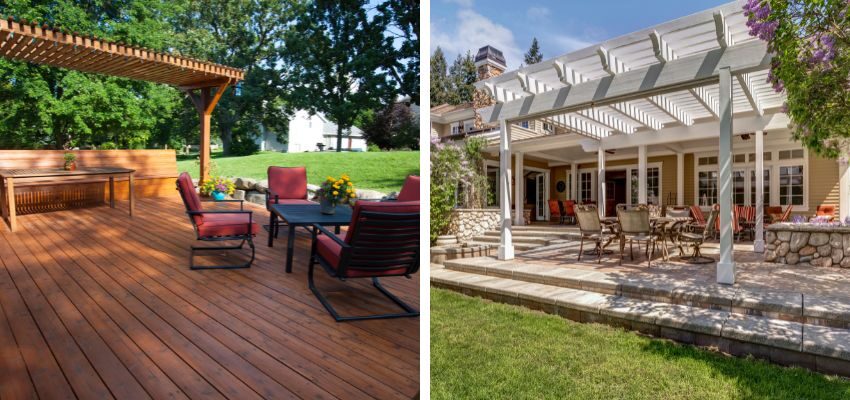 There are many reasons to build a pergola on your deck. Let's talk about each one below:
Provides shade on hot summer days
Summer is hands-down the best time of the year to hang out outdoors. On some days though, it can get too hot for you to stay outside comfortably. Thankfully, pergolas can provide the needed shade to keep you nice and cool.
Makes your outdoor space look better
A good pergola will alter the overall aesthetic of your home's outdoor space. Plus, when it comes to pergolas, there are limitless choices regarding designs, colors, and materials. 
Besides that, you can build your pergola by yourself, hire a contractor, or buy a pre-designed kit from a reputable manufacturer in your area.
Gives you a superb entertainment space
Pergolas are perfect spaces for entertaining guests outside. For one, they make for excellent dining and seating areas.
Aside from that, you can decorate them to add more flare to the overall ambiance of your home. I would say, this is great for those who want to impress their visitors.
Lets you stay outside even when it's raining or snowing
Snow and rain prevent you from staying outdoors even if you want to. 
However, with a completely coverable pergola, it'll finally be possible for you to stay outside regardless of the weather.
Building A Pergola On Deck From Scratch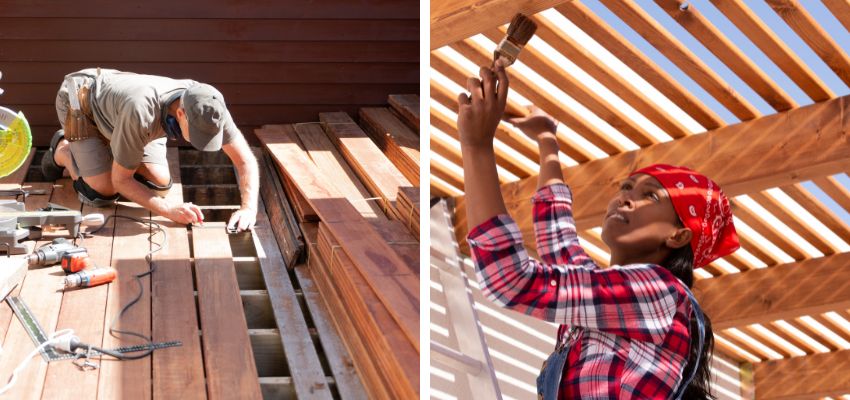 Because all pergolas are different, the building process for each one is different as well. Hence, we cannot give you a step-by-step guide on building your pergola.
Even so, we've got a few tips for building a pergola on deck from scratch:
Check to see if you need a permit
In most jurisdictions, you'll need to get a permit before building your pergola. 
Hence, we recommend that before starting anything, check with your local building department before starting anything. After all, breaking the law is something nobody wants.
Start designing your pergola
As mentioned earlier, when it comes to pergolas, there are unlimited design options. However, remember that the most essential thing that your pergola should have is structural integrity. 
It must be built using the highest quality materials that you could get your hands on. In addition, the pergola you design has to have a steady base.
Take all the necessary safety measures
Every construction project has its dangers to it. 
Therefore, you must wear the appropriate safety gear when building your pergola. Also, it would be good if you had an assistant to help you out so that you may finish your pergola deck project faster.
Keep away from top-heavy materials
A poorly built pergola can collapse on itself, so you must construct it with sturdy materials. 
Keep away from top-heavy materials. If you're in doubt, fabric panels or wood lattices are your best bet. Besides being affordable, they're also sturdy and easy to work with.
Great Pergola Deck Ideas
Add a ceiling fan to your pergola. Doing so allows you to mitigate summer heat and spend more time under your pergola.

Place hanging plants or let grow vines uninterruptedly on your pergola's overhead grid and lattice walls, which will give your pergola a more natural and calming look.

At some hours of the day, the sun shines too brightly. To mitigate this issue and remain outside, install hanging curtains and a fabric shade canopy on your pergola.

Install LED, suspended, or hanging lights on your pergola's lattice walls and overhead grid to illuminate it at night.
Wrapping It Up
Pergolas are the perfect structure to have on your home's outdoor deck. With a well-designed one, you'll instantly get to change the overall vibe of your patio area. Moreover, pergolas have lots of functionality, making them an excellent investment.
It's paramount that you take the construction of your pergola seriously. Come up with the perfect design and be careful at work. It would be a good idea to have someone to assist you. That way, you'll be able to finish faster.
If building a pergola seems too daunting, you can always hire a professional to do it for you. On top of that, many manufacturers sell pre-fabricated pergolas that can be installed within a day.
(Related: Skillion Roof: Uses, Pros, and Cons)
Hire The Timber Experts For Your Next Project
Vintage & Specialty Wood should be your source of the highest quality timbers from around the world. When it comes to fabricating and installing reclaimed wood or specialty wood products in your home, we don't cut corners. We offer many reclaimed wood and specialty wood products such as Douglas Fir, white oak, and much more. We also offer timber framing and wood flooring services as well. Contact our team today to speak to a timber expert about what Vintage & Specialty Wood can do for you.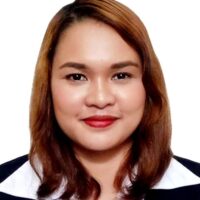 About The Author
Judy Ponio is a professional writer for the Vintage & Specialty Wood website blog. Her passion for carpentry and wood working coupled with her commitment to fact based blogging has helped her articles help millions of people over the years.